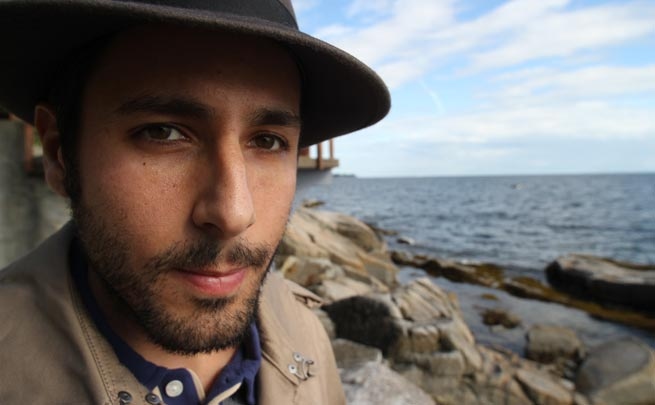 Artist Carmen Papalia (www.nac-cna.ca)
The experience of accessing art is on the schedule for tonight's OAG opening part of the NAC's Canada Scene programming.
Artist Carmen Papalia has returned to Ottawa! In May 2016 Carmen was part of a panel at the Ottawa Art Gallery titled "Accessing the Museum." While here he also "led a radical access workshop with OAG staff and other museum professionals from Ottawa that included a performance of Blind Field Shuttle" says Stephanie Nadeau, OAG's Curator of Public Engagement.
Now Carmen is back to present his research on the "topic of organizing for accessibility and mutual aid" as part of the exhibit Open Access: A Demonstration. Carmen shares that this exhibit is in "response to the failures that I experienced as a recipient of disability support services." The exhibit "consists of five tenets that speak to the often overlooked implications of offering support to others, providing the reader with a framework that they can use to assess the support-based relationships that they are invested in."
Along with the exhibit Carmen will also be performing two art pieces for Canada Scene March for a New Accessibility on June 25, and White Cane Amplified on June 26. Both performances will start at the Ottawa Art Gallery Annex at the City Hall.
Tonight's Opening
WHEN: Thursday, June 22, 2017 from 5:30 – 7:30 pm
WHERE: Ottawa Art Gallery's Annex gallery at City Hall, Ottawa
More on Carmen from the NAC website: 
In 2015, Vancouver-based social practice artist Carmen Papalia produced Open Access, a conceptual work that addresses the failures he experienced as a recipient of institutional support services. Through Open Access, Papalia offers a critique of the common, policy-based model for accessibility, which he found was prescriptive and marginalizing by design. This exhibition explores the movement that coalesced after Papalia and a group of artists and activists from Gallery Gachet conducted an unsolicited accessibility audit of the Vancouver Art Gallery. (read more…)