Establishing the Vocabulary of the Visuals
When Iranian artist Shirin Neshat's photography first started appearing the language, whether you understood Farsi or not, was explosive.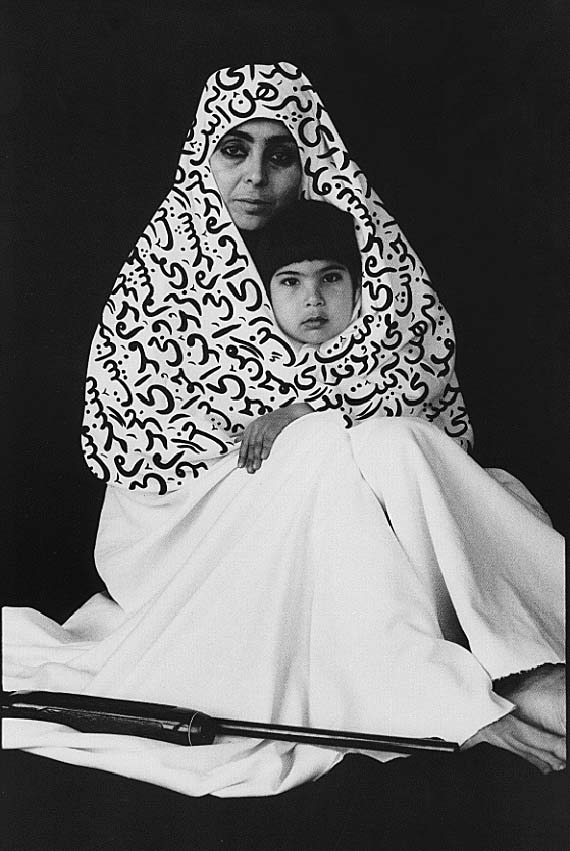 The images mixed violence, tenderness, and sensuality in a way I had never encountered before. I was used to seeing women valued in art as an aesthetic but not as a stage upon which a woman could perform an act of defiance by literally writing the script of her own point of view upon the body.
This was 1990s and the voices of women artists, especially of non-Western origin, were still muffled under the (wet) blanket of Modernity's traditions in the way we were to experience art, talk about art as well as conduct the business of art.
Above image from Islamic Arts Magazine article on Shirin Neshat.
"I feel a strong parallel between the writings of contemporary Iranian poets and my images, which visualize the metaphors that are so important in the text." ~ Shirin Neshat in World Art Magazine, 1996
no one is thinking about the flowers
no one is thinking about the fish
no one wants to believe
the garden is dying
that the garden's heart is swollen under the sun
that the garden
is slowly forgetting its green moments
~ Forugh Farrokhzād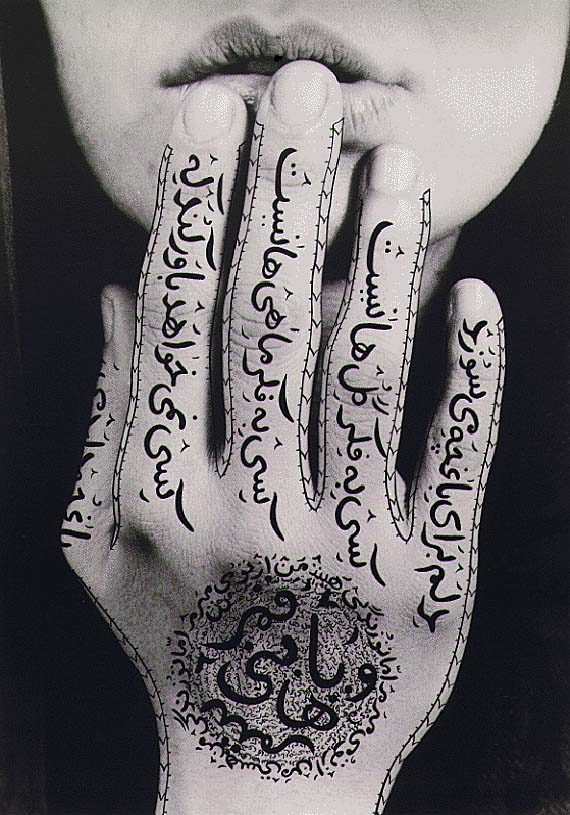 Above image from Islamic Arts Magazine article on Shirin Neshat.
For me, the contemporary art I was studying in university and experiencing in galleries felt foreign and unrecognizable – not so much to my eyes but to my soul. In the experience of Shirin's work I found a homeland. It was the gestures – the female hands and lips. It was the look in the eyes staring from one female to another. This time a woman's gaze was directing the compositional outcome.
Since that time there has been an outburst of women in art. Internationally the work of women is some of the most exciting work to be encountered. The art is layered with explorative technique and quick cleverness as well as being emotionally charged.
But the commentary provided in the work is not exclusive to the female mind. Much of the work being produced is about the experience of being human.
Sona Safaei-Sooreh's installation Alphabet and Border, currently showing at York Quay Gallery (Harbourfront Centre) as part of curator Sanaz Mazinani's The  Third Space Exhibit uses a video of English text converging with Farsi script to get the audience to consider the contemporary condition of ever collapsing boundaries.
Sona Safaei-Sooreh installation "Alphabet and Border". Image by Leah Snyder for Mixed Bag Mag.
"Border is a video installation in which Farsi and English texts move towards a corner of a room and disappear on the borderline of two walls. It is about arbitrariness of rules and regulations, the sense of in-between-ness, duality and ambivalence that one experiences in a transcultural situation.
The borderline is a narrow vertical line between two walls: the joint. The place two walls meet.  This very "thin line" changes the direction of one's eye, all of a sudden similar to geopolitical borders in between countries. One step back or forth one is occupied with different laws and orders."
This beautiful short by Elnaz Maassoumian treats text in a different way less about its abstraction and more about the poetics of its meaning as interpreted by the viewer.
Untitled from Elnaz Maassoumian on Vimeo.
From literal translation of text back over to abstraction Elnaz' piece featured in The Third Space exhibit is about the "Poetics of Space".
Image from curator Sanaz Mazinani's Facebook page.
"I am interested in Gaston Bachelard's idea from The Poetics of Space. Bachelard talks about different kinds of spaces: nests, shells, corners…These spaces are approached both from their physical and metaphorical aspects: they offer refuge and constitute 'doors for the imagination'.  I am interested in the potentials of space. By this I mean the exploration of the possible uses that a space offers. I am approaching this through the reconfiguration of a given space to accommodate specific needs which can change over time. For these purposes, flexible, malleable materials constitute ideal means. They can be easily retooled or reshape to conform given purposes. They also open rich possibilities for redefinition of the relation between private-public; in-out; isolation-connection; visible-invisible."   More images on Elnaz's website

To gain more insight into Shirin's powerful imagery, both in the still and moving image, MIXED BAG MAG recommends Tirgan Festival at Harbourfront Centre this coming weekend. Shirin will be giving talks on her body of work and there will be screenings of both her feature film Women Without Men as well as her shorts. All events are FREE!
FRIDAY, JULY 19
7 pm – Correlations of Visual Arts & Cinema Q & A with Shoja Azari, Shirin Neshat, Babak Payami @ Lakeside Terrace, Harbourfront Centre
9 pm – Collection of Short Films by Shirin Neshat @ Studio Theatre Harbourfront Centre

SATURDAY, JULY 20
1 pm – Women Without Men Screening with Q & A @ Studio Theatre Harbourfront Centre
9:30 pm – Women Without Men Screening with Q & A
ONGOING…
The Third Space Exhibit is ongoing until September 15 at Harbourfront Centre.
Work by Gita Hashemi. Image by Leah Snyder for Mixed Bag Mag.