Halloween in The City & what to do in Toronto on October 31st
This isn't your typical Halloween Bash but then again Mirella Amato, founder of Beerology™, doesn't throw a typical event.
I discovered Mirella at Pecha Kucha Toronto at the Gladstone Hotel speaking about an event she was hosting called "Hopera." What is a Hopera you ask? Well, it is Mirella's mashup of her two professional loves – Hops & Opera. For last year's event "each beer was paired with an operatic aria, duet or ensemble." Mirella says she wanted to "create the ultimate evening, by combining two fantastic things, and to open doors: introduce opera lovers to craft beer and introduce craft beer fans to opera."
"It was to share two of my passions and inspire people to look at both opera and beer in a new way. Before each pairing, Melanie[the Opera Singer] provided a description of the piece and I then guided the audience through a brief tasting of the beer, explaining why I had chosen this particular beer for the pairing."  Read more about the event…
But Mirella's upcoming event for the night of Halloween 2013 may just take the cake (or worm) as the most unique  Beerology™ event as well as the most intriguing (and possibly the creepiest) mashup –  Beers & Bugs.
Hallowe'en is around the corner. Why not celebrate by sinking our teeth into some creepy-crawlies?
For this event "Cookie Martinez and guests will be preparing five different cricket canapés and sweets, each of which will be expertly paired with a craft beer as chosen by Canada's only Master Cicerone, Mirella Amato."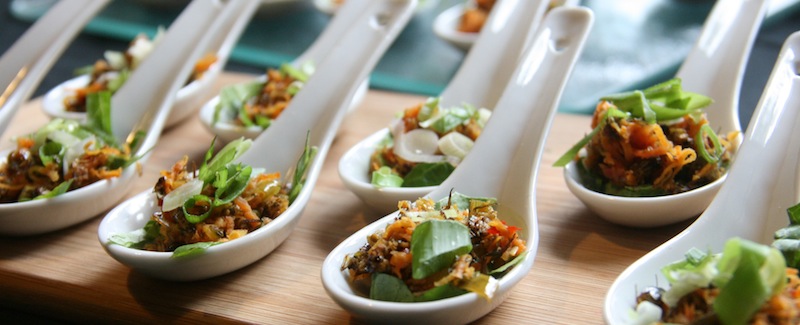 At a time when food scarcity and sustainable options for protein need to be explored Beer & Bugs is a fun way to introduce our culture to considering insects as a food option.
Why eat crickets?
They are sustainably produced, using less water, less land, producing fewer C02 emissions with a high feed to protein produced ratio
They are nutritious. High in protein, Omega 3 fats and iron
They are versatile to cook with
They are found everywhere on the planet, meaning that they do not pose an ecological disaster. They are also capable of being raised in home units
Why drink beer?
Can you think of a reason not to?
BEER & BUGS EVENT DETAILS:
The Victory Café
581 Markham St, Toronto, M6G 2L7
Thursday, October 31, 2013 from 7:00 PM to 9:00 PM
Tickets are $25 advance | $40 Cash at the Door
Click here to register for the BEER & BUG Event & purchase advance tickets.
Beerology™ is partnering with Aruna Antonella Handa of Alimentary Initiatives (co-host of the Future Food Salon) for this event.
FYI – DON'T FORGET TO DRESS UP!
"Toronto Urban Adventures will be running a costume competition at the event. Prizes will be awarded in three categories (see site for details) and the winners will receive tickets to the fantastic Beer Makes History Better Tour."
Find out more about Mirella & Beerology on her website, Facebook and twitter @beerologyboffin.