TRC Commissioner Marie Wilson moderates a panel of cultural provocateurs speaking on Art & Reconciliation. 
"It's time for the rest of Canada to do the heavy lifting" ~ I Lost My Talk composer John Estacio
On Thursday, January 14 the National Arts Centre hosted a panel discussion on ART & RECONCILIATION prior to the opening night of I Lost My Talk, a performance inspired by the poetry of Mi'kmaq elder and poet Rita Joe. The response to this event was tremendous. Hundreds of people swelled up the stairs from the lobby where the 100 Years of Loss exhibit on the impact of Residential Schools is installed until the end of this week. The event also drew political support. In attendance was the Prime Minister's wife Sophie Grégoire-Trudeau, the Governor General's wife Sharon Johnston, National Chief of the Assembly of First Nations Perry Bellegarde and former Prime Minister The Right Honourable Joe Clark. I Lost My Talk was a commission by Clark's family for his 75th birthday. A moving and lovely gift that we all got a chance to participate in and benefit from.
Canadian writer Joseph Boyden speaks on his commission to write the libretto for the Royal Winnipeg Ballet's Going Home Star. 
It's encouraging to see a National cultural institution take such a leadership role in implementing the Truth and Reconciliation Commission's Calls to Action. It's also poignantly symbolic to have a National cultural institution recognize, in the present moment, a fact that history has tried to obscure. Both the panel and the performance of I Lost My Talk opened with the National Arts Centre acknowledging that "we are on UNCEDED Algonquin territory."
On the panel, along with Canadian writer Joseph Boyden and John Estacio, the composer for the musical score of I Lost My Talk, was Rachel Maza, "acclaimed Australian theatre director of Jack Charles V The Crown."  I had the opportunity to attend this incredible play that delved into the impact of assimilation policies on Indigenous people in Australia. Over the course of 75 minutes Jack charmed us with his beautiful way of presenting his biography – a life full of identity confusion and much loss but also an amazing amount of grace due to Jack's own incredible resilience. I left with many mixed emotions. Find out more about the play…
Jack Charles receives a standing ovation at the closing of his performance of Jack Charles V The Crown at the NAC. 
Going Home Star opens this week in Ottawa at the National Arts Centre.
As this month draws to a close the NAC is hosting Royal Winnipeg Ballet's production of Going Home Star. 
"Going Home Star – Truth and Reconciliation is the brilliant result of a star-studded collaboration between the Royal Winnipeg Ballet, award-winning Canadian author Joseph Boyden, acclaimed choreographer Mark Godden, and renowned Canadian composer Christos Hatzis. Going Home Star was ten years in the making, first envisioned by late Cree elder/activist Mary Richard and RWB Artistic Director André Lewis. Searing and sensitive, this powerfully emotional classical ballet is the deeply resonant love story of Annie and Gordon, a pair of contemporary Aboriginal young people coming to terms with a souldestroying past. Hatzis's multi-layered score incorporates music by Inuk throat singer Tanya Tagaq (winner of the 2014 Polaris Music Prize), Steve Wood, and the Northern Cree Singers." Read more…
The creative team and performers of Going Home Star speak at the NAC about the ballet during the Truth and Reconciliation Commission gathering in May/June 2015
Going Home Star runs from Thursday, January 28 to Saturday, January 30 and then will continue its tour in Vancouver. Click here for performance dates and tickets. Tickets will be given to Residential School Survivors, more information can be found here.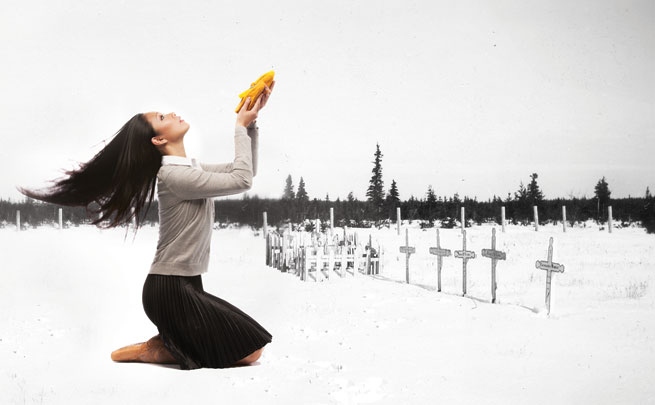 Also, this weekend at the NAC is Innu author, composer and singer Florent Vollant performing on Saturday, January 30.
"born in Labrador in 1959 and grew up on a reserve named Maliotenam, east of Sept-Îles. He began his musical career in the middle of the 80s and helped to create the Festival Innu Nikamu, which, since its founding, has brought together many musicians and singers from various Amerindian nations." read more…
And the National Arts Centre has more in store so be sure to follow along with their 2016 programming around Indigenous Storytelling on their website, Facebook  and Twitter @CanadasNAC.
Photography by Leah Snyder for Mixed Bag Mag.