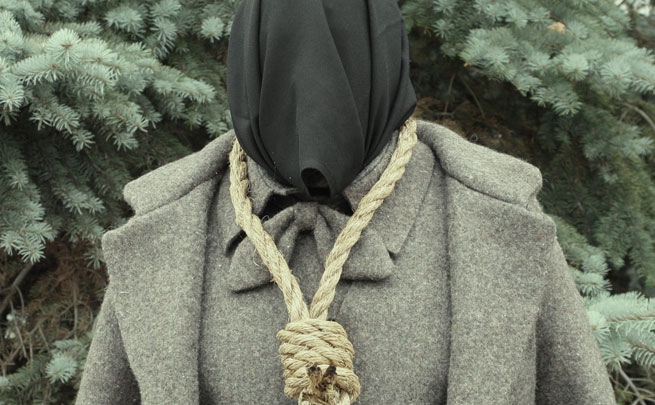 Métis artist David Garneau's performance "Dear John, Louis David Riel" (www.nac-cna.ca)
The National Arts Centre Ottawa offers more programming on Louis Riel.
Métis artist, writer and educator David Garneau is in town for a performance on the history of Louis Riel. The work is part of the programming for the NAC's Canada Scene and follows the controversial Louis Riel opera that opened this past weekend at the NAC. The performance will take place on Parliament Hill today at the Sir John A. Macdonald statue.
From the NAC:
Join Métis artist David Garneau at the bronze statue of Sir John A. Macdonald on Parliament Hill for a powerful performative dialogue between the Métis leader Louis Riel and Canada's first prime minister. Dressed as Riel, Garneau imagines an encounter between Riel and Macdonald, who charged Riel with high treason in 1885, leading to Riel's execution by hanging. The artist's performance touches on themes of masculinity and power display, Métis identity, and the complexity of reconciliation – which assumes that a harmonious relationship existed between the two parties in the first place. (read more…)
WHEN: Monday, June 19, 2017
WHERE: Parliament Hill, 111 Wellington Street, Ottawa, Canada at the Sir John A. MacDonald statue

FREE EVENT!