Jam-packed. Art. Week.
OPENING WEDNESDAY
Ghost Dance: Activism. Resistance. Art.
Ryerson Image Centre
6 – 8 pm
Runs until December 15
"Ghost Dance examines the role of the artist as activist, as chronicler and as provocateur in the ongoing struggle for Indigenous rights and self-empowerment."  More info…

Farandole: Perspectives on Western Canadian Metis Culture
Textile Museum of Canada
6:30 – 8 pm
Runs until November 14
"The exhibition's title refers to a traditional French dance involving a chain formed as dancers hold hands, moving along in the leader's path, captured in the cyclical relationship of collaboration, appropriation, and inspiration at the heart of Farandole. Exploring the ongoing connections between Métis and francophone culture, the exhibition offers a unique look at the continuum of high end fashion and traditional costume, storytelling, beadwork, weaving and embroidery. An innovative examination of 21st-century identity, Farandole reinforces the Textile Museum of Canada's commitment to engaging experiences and creative practices that provide insight into our global context." More info…

OPENING THURSDAY
Trade Marks: Keesic Douglas, Meryl McMaster, Nigit'stil Norbert & Bear Witness
Prefix @ 401 Richmond
7 – 10 pm
Runs until November 23
"Trade Marks presents a new generation of Indigenous artists who, through their various artistic strategies, challenge and interrogate working assumptions of who they are. The exhibition contributes to the recently revived conversation on what it is to be Indigenous in Canada today. It also considers how these artists have responded to the imposition of Western systems of classification on non-Western arts and how their artistic practices have been informed by methodologies of decolonization."  More info…

This exhibition is presented by Prefix in association with ImagineNATIVE Film + Media Arts Festival

FYI – As Part of CULTURE DAYS curator Betty Julian will be giving a walk-through of the exhibit on Saturday, September 28 @ 2 – 2:30 pm. More info…
OPENING SATURDAY
Manifesto's Sacred Seven Art Exhibition & Heartist Pre-Show Panel Discussion
918 Bathurst St. (Dupont)
Panel Discussion (RSVP to rsvp@themanifesto.ca )
4- 6 pm
"HEARTIST A pre-show panel discussion and audience talk back about the growth of mentor-mentee collaborations in Canada, how they work, and add value to the health of the Canadian arts sector." More Info…
Sacred Seven Art Exhibition
6 – 1 am
"The 7th Annual Manifesto Art Show will explore the notions of connectedness and evolution as we present thought-provoking works from over 25 artist across Canada and internationally." More info…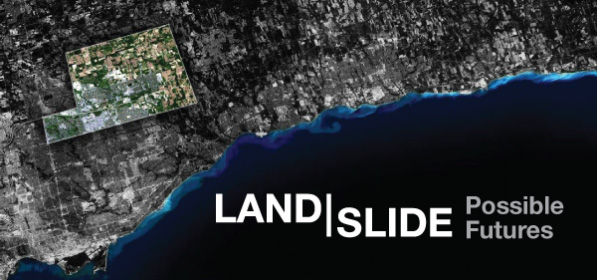 Land|Slide Possible Futures
Markham Museum
Runs until October 14
"Land|Slide Possible Futures is a groundbreaking large-scale public art exhibition which responds to a world in transition where the past, present and future collide. The landscape of Markham will be transformed by the work of over 30 national and international artists to explore themes of multiculturalism, sustainability, and community." More Info…
For directions on how to get there from Toronto including directions for TTC & Free Shuttle Services from MOCCA on every Saturday starting September 21  as well as this Sunday, September 22 click here.
Lovesick Child: Âhasiw Maskêgon-Iskwêw, Leslie McCue, & Adrian Stimson
A Space Gallery
Runs until October 26
Opening Reception October 18, 5:30 PM – 7:30 PM
"Lovesick Child is Toronto's first retrospective exhibition between A Space Gallery and the imagineNATIVE Film + Media Arts Festival on Aboriginal new media pioneer Âhasiw Maskêgon-Iskwêw. His work with the Canada Council for the Arts and the Banff Centre on a number of equity and new media initiatives such as Drum Beats to Drum Bytesin 1994 ensured Indigenous presence within the new territory of new media and the Internet." More Info…